SOLDANELLA für 2 Personen (31 m2)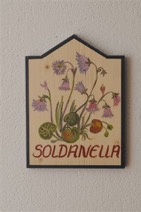 Neu renovierte, im Alpenchic eingerichtete Wohnung im
Untergeschoss
. Wohnzimmer/Schlafzimmer (2 Fenster), gemütliche neue Küche / Essecke mit Backofen und Nespresso- und Filterkaffemaschine. Doppelzimmer mit 2 Fenstern, Schrank & Lederkommode, Dusche/WC, 32 Zoll Sat-TV/Radio, freier Wifi Internetanschluss, Kein Balkon.
Neu steht Ihnen eine Waschmaschine & Tumbler zur Verfügung.
Newly renovated small and cosy apartment (31 m2) for 2 to 3 persons situated in the basement (with window), livingroom/bedroom, internet, new kitchenette with Nespresso machine, oven, coffee machine, additional double room, shower/toilet, SAT-TV and radio, free internet, extra bed available. Cleaning fee winter CHF 80, summer CHF 60. Nespresso capsules obtainable at the landlord's. There are more apartments available in our charming guesthouse.